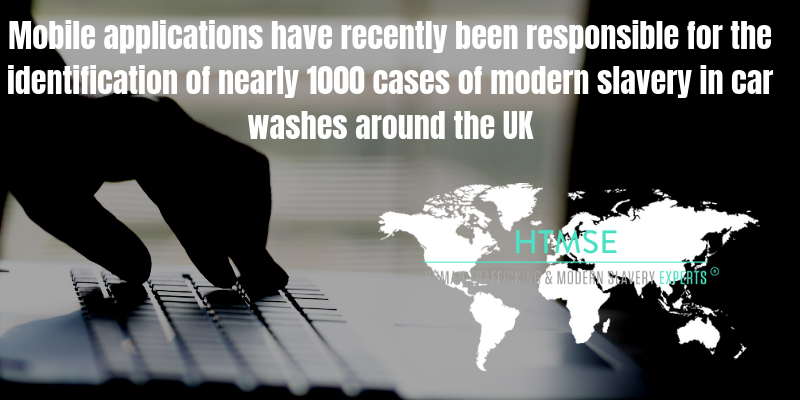 Technology, and in particular mobile applications, is being increasingly identified as an important method of tackling modern slavery and human trafficking. Mobile applications have recently been responsible for the identification of nearly 1000 cases of modern slavery in car washes around the country. With the release of the Modern Slavery Helpline annual report for 2018, which recorded approximately 1 in 7 reports were made by webform submissions or through the Unseen App, it is clear that there is a rising awareness of modern slavery and human trafficking in the UK and a significant proportion of reports are made through technological methods.
However, mobile applications are not the only technologies being identified and implemented to help tackle modern slavery and human trafficking. So far in 2019 there have been several reports of new implementations of technology to combat modern slavery and human trafficking. For example, satellite imaging being recently used in a study by Nottingham University to accurately map the number of brick kilns in India. Brick kilns in India, which are associated with the exploitation of labourers through forced labour and debt bondage, exhibit unique features that can be mapped by satellite imaging and it is hoped that other industries associated with modern slavery may be vulnerable to satellite imaging too; scaling this use of technology into a major method of tackling modern slavery in remote areas. By contrast, algorithms that measure activity against a set of variables have been piloted by banks in the Netherlands to identify unusual behaviour that may be indicative of human trafficking or modern slavery.
However, whilst the use of technology to combat human trafficking and modern slavery is advancing in new directions and receiving high profile acclaim concerns have been raised that technology merely constitutes a tool and its use alone may not be enough. TechUK, an organisation responsible for representing approximately 900 companies that develop technology, has raised concerns that for technological tools to be truly effective corporations need to ensure they have a strong anti-slavery culture with a willingness to act. Whilst strong corporate and social anti-slavery cultures are vital, the development of technological tools and processes to target human trafficking and modern slavery demonstrate positive commitments by a wide range of actors to tackling these issues. Many of these technological developments are recognised as new and as these tools are refined it is quite possible that technology will take play a greater role in combating human trafficking and modern slavery.