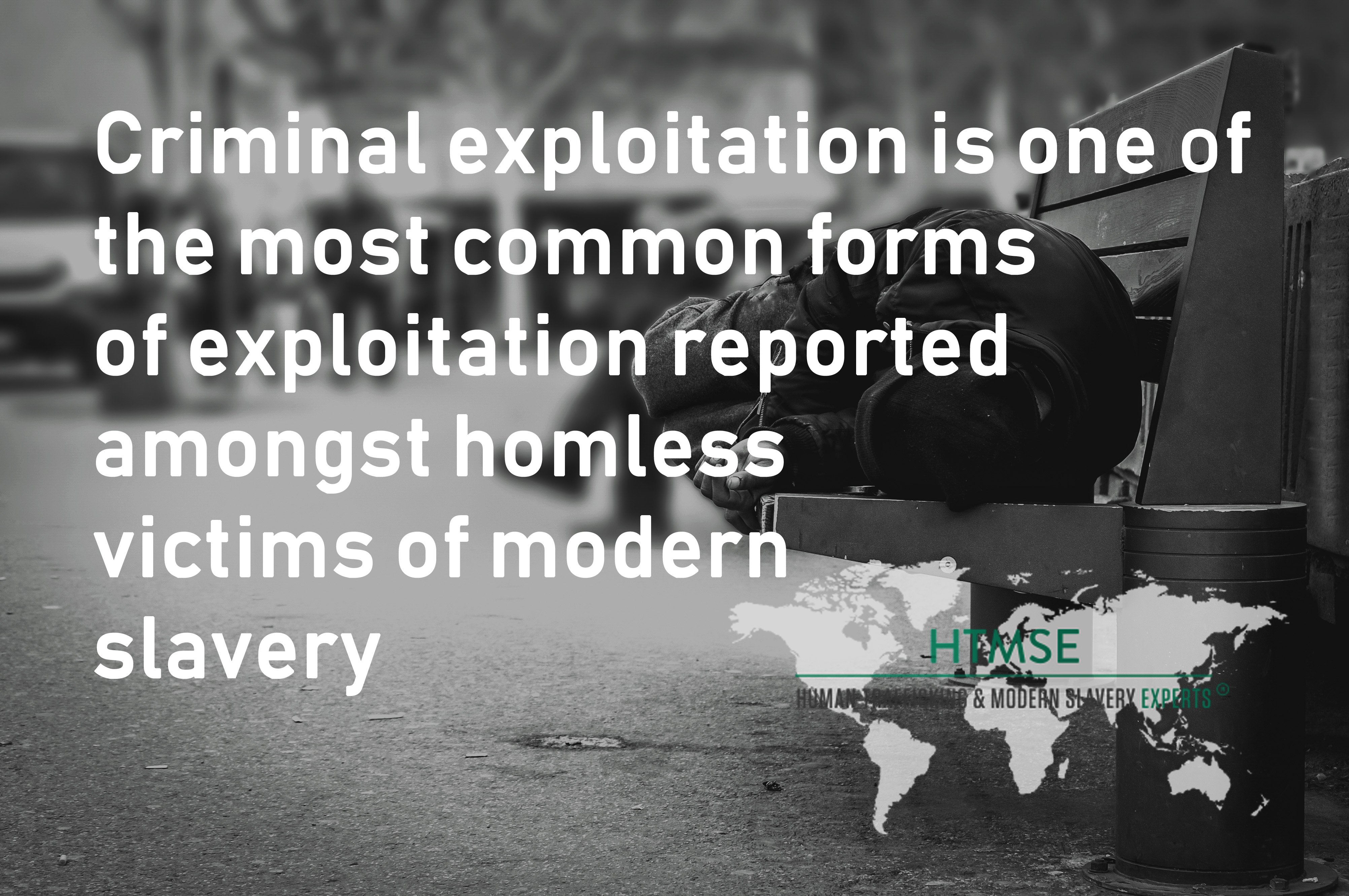 Homelessness continues to be a major risk factor for individuals' becoming victims of human trafficking and modern slavery. HTMSE previously analysed the links between homelessness, human trafficking, and modern slavery, and the critical requirement for ongoing, long term support provisions. Homelessness itself leads to an individual having an increased visibility to potential exploiters and therefore an increased vulnerability to becoming a victim of modern slavery. However, homeless individuals can have a range of complex vulnerabilities beyond their homelessness that may include mental health problems, substance addiction, and physical health problems.
Throughout 2019 there was a marked increase in awareness of homeless individuals being approached at soup kitchens, night shelters, and 'drop-ins' where they are deceived with promises of work and income. Specialist Modern Slavery and Homelessness organisations, both governmental and non-governmental, have stated that individuals who are homeless are being specifically targeted for exploitation, which in many cases takes the form of criminal exploitation; where the victims are forced to commit crimes. In the case of victims who are homeless, the modern slavery charity Unseen found that the criminal exploitation is most commonly in the form of forced begging, though their exploitation may also involve being forced to commit theft, deal and/or produce drugs, or a number of other criminal acts. Victims of criminal exploitation may be arrested, charged, and even prosecuted and imprisoned for the crimes they have been forced to commit before being formally identified as victims of modern slavery and/or human trafficking and receiving appropriate support. HTMSE has provided extensive training on this area throughout the UK and world.
Criminal exploitation and forced criminality has been an area that has received substantial attention recently across the counter-trafficking and anti-slavery sectors and mainstream media, most notably in the context of 'county lines' drug dealing operations. Increases in awareness and guidance for addressing criminal exploitation across law enforcement, legal and local authority professionals; the prevalence of modern slavery and human trafficking across various industries such as the hospitality industry, and in particular new models in the hospitality sector such as 'AirBnB'; and the links between homelessness and modern slavery, can all be considered positive shifts towards the development of effective strategies to combat modern slavery and human trafficking across society. However, in the context of homelessness and modern slavery individuals may swiftly become trapped in cycles of exploitation. As discussed in HTMSE's previous analysis of homelessness and modern slavery, victims of modern slavery and human trafficking are at an increased risk of becoming homeless without appropriate long term support in place, and homeless individuals have an increased vulnerability to potential exploiters.
The circularity of this issue remains a clear demonstration that a comprehensive multi-sector response is needed to effectively tackle these issues.