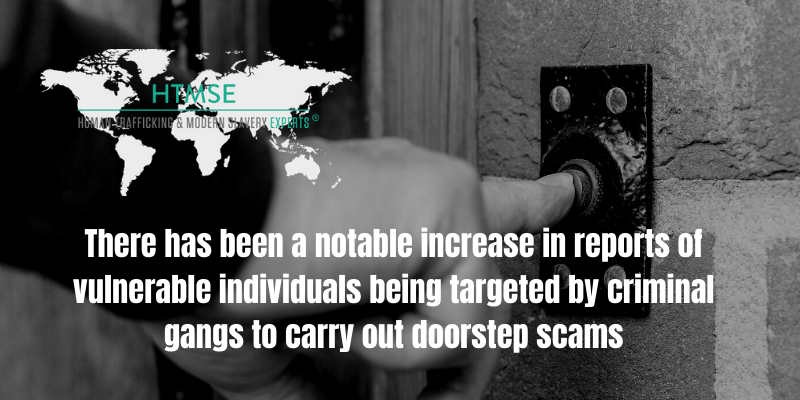 Door to door scams and rogue traders have been points of focus recently for their links with modern slavery and human trafficking. However, the links between door to door scams and modern slavery and human trafficking are not new issues. In July 2015 the Polaris Project published a report entitled 'knocking at your door: Labor Trafficking on Sales Crews', exploring the major issues of modern slavery, human trafficking and forced labour in the travelling sales industry. The Polaris Project's report focused specifically on the US context, but awareness of door to door scams and rogue trader's links with modern slavery and human trafficking has risen in the United Kingdom too.
What are Door to Door Scams and Rogue Traders?
The Neighbour Hood Watch provide a general overview of doorstep scams, including who is likely to be targeted by doorstep scammers and what sort of scams might be involved. They identify typical doorstep scams involving 'home improvements', where an individual will knock on the door of their victim, without warning, and explain that their home is in need of improvement works, such as gardening, re-wiring, re-roofing etc, and that this work is extremely urgent. However, more recent incarnations of these traditional scams include installing solar panels, exploitation of internet connections, and the creation of false technical service provider adverts on search engines. Aside from these typical doorstep scams, the Neighbourhood Watch also links apparent doorstep sales pitches with distraction burglary and identity theft.
Links to Modern Slavery
Door to door scams of the kind noted above are being increasingly identified as being undertaken by victims of modern slavery. Criminal gangs will target vulnerable individuals who are held by the gang and forced to work for little or no pay, with one reported instance stating that a victim had been forced to work long hours 7 days a week for food and tobacco.  These patterns broadly mirror the findings of the Polaris Project's 2015 report, which found vulnerable young people in need of employment would be offered the chance to work for a travelling sales company. Once in the 'employ' of the company the victim would be moved around the country, often under threat of violence and/or abandonment, and forced to work for no wages.
Debt bondage can be a common feature of modern slavery and human trafficking involving doorstep sales, scams and rogue traders. Vulnerable victims are initially offered shelter, food, support, and transport, which gets tallied against them as a debt. Continued reliance on the traffickers for these provisions adds to the debt, as well as failures to meet randomly assigned sales quotas.
The noted increase in victims of modern slavery being used to carry out door to door sales and scams has led to authorities calling for greater vigilance from consumers, both to be careful of new incarnations of old scams, but also of who is the individual apparently carrying them out.