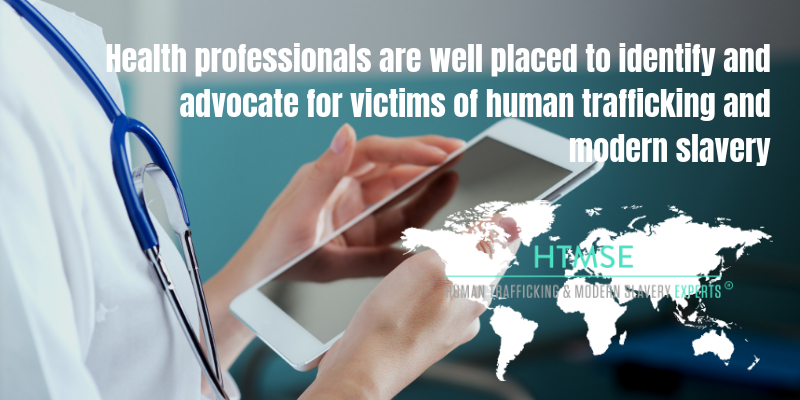 On the 26th February 2019 the British Medical Journal published an article entitled 'Modern Slavery: A Global Public Health Concern' that identified that "health professionals are well placed to identify and advocate for victims". This article analyses some of the current health care responses to modern slavery and which health care professionals can help provide a comprehensive response.
In 2012 the World Health Organisation (WHO) published a document on human trafficking that addressed some of the public health concerns of human trafficking, highlighting that:
"… evidence on health and human trafficking is extremely limited…" (p.2)
The document noted that most of the 16 studies consulted had focused on sex trafficking with only two that looked at forced labour, overall recommending that health care providers increased their capacity to identify and respond to human trafficking, and that urgent research needed to be done on modern slavery and trafficking in men so that more comprehensive responses could be made.
Since 2012, medical authorities and institutions, such as the Royal College of Nursing and the US Centre for Disease Control and Prevention (CDC), have incorporated a number of policies, documents, and professional resources to help identify and appropriately categorise instances of human trafficking and modern slavery. The WHO authorised an adaption of the ICD-10 for use by the US government, and it is this tool that the CDC have added new codes to for the purposes of reporting suspected cases and examination and observation of victims of trafficking.
It is well recognised now that medical and health professionals play a key role in targeting human trafficking and modern slavery, and organisations such as HEAL have released a variety of training resources and toolkits to help different health professionals in responding to human trafficking. These health professionals can be drawn from any health sector, including counsellors and psychologists, doctors, nurses, first responders, dentists and many others. These key moves towards mobilising the healthcare sector in combating human trafficking and modern slavery represent a significant addition to the global effort to eradicating modern slavery and human trafficking; which effects an estimated 40 million people globally. Multi agency and cross sector responses, from active investigations to supporting survivors, is vital to an effective and comprehensive response to such a major humanitarian crisis. The trend of increasing awareness and active responses in the healthcare sector adds a significant dimension to global anti-trafficking and anti-slavery efforts.
Access to the articles can be found here. The full article citation is:
Such, E., Walton, E., Bonvoisin, T. and Stoklosa, H. (2019) Modern Slavery: A Global Public Health Concern. British Medical Journal. 364, p.1838.