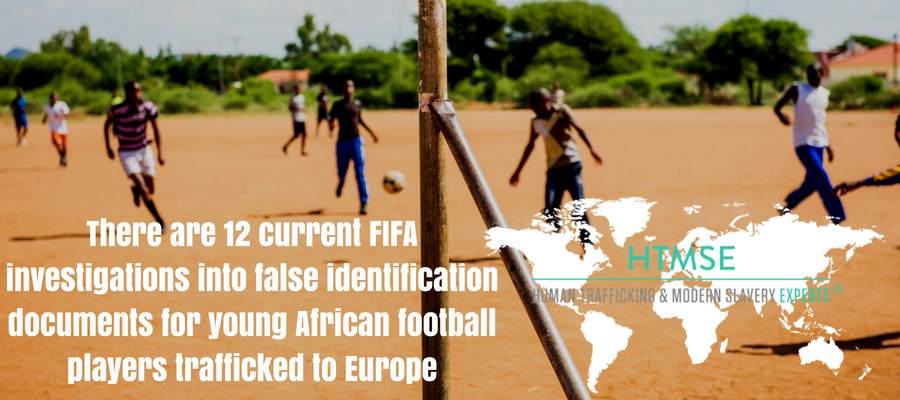 The exploitation of aspiring young African footballer players is being analysed as a rising channel of human trafficking. Boys on the West Coast of Africa, along with their families living in various degrees of poverty, are sold into a form of 'debt ​bondage​' through the dream of playing for a European league, in which their fortunes would be immense. With premier European football transfers reaching 200 million Euros, the attaining a cut of this fee is being seen as a lucrative business opportunity.  Following recent African football heroes such as Stephen Appiah, now a multimillionaire who began as an academy player of Ghana, there scouts from European clubs such as Paris Saint-Germain and Monaco looking for talented players within the developing world. Although aiming to provide opportunity for talented players, the chances of selection for the majority remain disproportionately slim as the selection process is based on a system of privilege and club prejudice. However, aspiration to these African football idols is used by local football 'agents' as a 'realistic opportunity' to leverage poor African families to spend their life savings and limited resources to pay agents from football academies around $3,000 per player to promise passage to Europe and signing by a big club. 
In attempted replica of the few legitimate academies that successful African footballers used, a number of illegitimate clubs or unlicensed 'academies' have begun to develop mostly in Cote d'Ivoire and Ghana. Often, the agents themselves claim to be ex-pro players, yet have false resumes and limited knowledge of the game or the professional football selection process. In many cases they present binding contracts where agents are guaranteed a majority cut of their potential success, as well as require payment for all intermediate consultation and logistic services. Such fees are extortionate ​in relation to the families' financial situation, where houses, family heirlooms, jewellery is often resorted to as payment. Furthermore, because of the devotion to this opportunity, boys are pulled out of education or any other form of skill development, which narrows their chance of economic prosperity in any other field.
The reality is that in many cases for these boys to get to Europe, they would have to be trafficked or smuggled by the agents via extremely dangerous routes, using illegal identification documentation obtained through domestic corruption. On arrival in Europe, given the illegitimacy of the clubs they come from, the chances of the players getting a professional trial are very slim. In some cases, they are provided with this opportunity, however as reported by Italian authorities, the fake documentation they have will jeopardise the opportunity for their selection – as seen by the current 12 investigations into FIFA rule violations for this purpose. Furthermore, if they do not succeed in their tr​ial ​or become injured, the young boys are commonly abandoned or refuse to return home because of the shame to their families. This form of trafficking is a growing epidemic as the footballers are left homeless, poor and resorting to street trading or petty crime. The agents are exploiting  families by selling them false hope, because despite the world-class skill and potential of the players, the probability of their success through these illegitimate channels is highly unlikely.