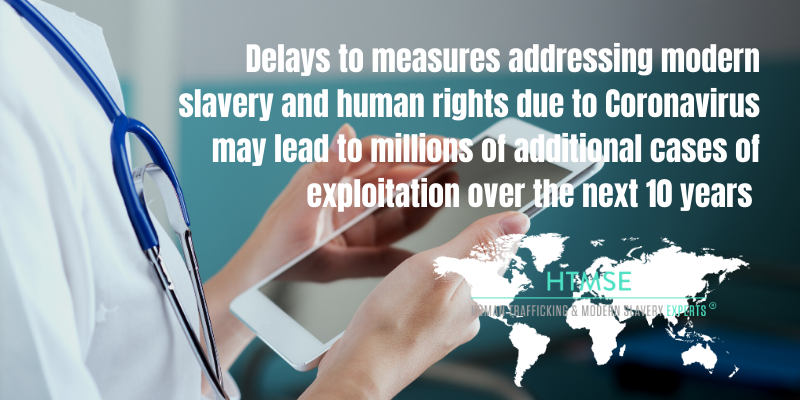 The continuing coronavirus pandemic poses risks to members of society beyond the immediate virus itself. Since governments around the world began introducing new legislation and lockdown procedures to enforce social distancing measures many organisations have highlighted the need to maintain protections for basic human rights, and ensure appropriate safeguards are in place for the some of the most vulnerable in society, such as victims of human trafficking and modern slavery; victims of domestic violence; children at risk of exploitation; and serving prisoners for whom an inability to socially distance may have severe consequences.
Domestically, NGOs and academics have warned many victims of modern slavery and forced labour trapped in exploitative situations will be unable to seek medical assistance or stop working, and many may further actively avoid seeking help for fear of contact with the authorities. Whilst some positive measures have been put in place to aid those impacted by coronavirus and lockdown measures domestically, such as the UK Government's measures allowing victims of modern slavery to remain in government funded safe-house accommodation for three months, significant concerns continue to be raised for workers in international supply chains. Reductions in international trade have caused thousands of workers to have been left jobless, or facing joblessness, leaving them potentially vulnerable to exploitation and modern slavery. In Cambodia, over 20,000 workers in the garment industry alone faced job losses due to factory closures resulting from a reduction in trade with China, the US and Europe. Similar reports have emerged from other countries, impacting workers across all industries. However, the risks extend beyond becoming trapped in exploitative employment. Loss of income has led some workers and families having to resort to seeking high interest loans in order to survive, leading to many becoming victims of debt bondage; being forced to work to pay off the debt. This has become a particular concern for millions of informal workers in countries such as India, where many workers do not have bank accounts or official paperwork causing difficulties in accessing Government aid.
In addition to concerns for workers across the world becoming extremely vulnerable to modern slavery, forced labour, and other forms of exploitation as a result of losing their job and income, there are substantial concerns for those working in supply chains for high demand items. In particular, manufacturers of personal protective equipment used in medical services, such as rubber gloves, have come under scrutiny for their labour practices; with the conditions of migrant workers in rubber glove factories in Malaysia being described as 'slave like'. With demand for these items continually rising, human rights organisations have implored governments not to ignore labour conditions and exploitation occurring across global supply chains in their production.
These impacts of the global pandemic may have profound effects beyond the individuals forced into exploitative situations, causing substantial delays in the progress of programmes to improve human rights globally. The UNFPA has conducted an analysis that suggests the economic impact of coronavirus, in conjunction with delays to programmes tackling issues such as FGM and child marriage, could lead to an estimated 13 million child marriages in the next decade, and an additional 2 million cases of FGM above what was previously predicted.
The coronavirus pandemic has increased the risks and vulnerability for many in society and will continue to do so for many years after the initial pandemic itself has ended. In addition to those trapped in violent, abusive, and exploitative situations at home, for many around the world the economic impacts of coronavirus have raised their vulnerability to potentially becoming trapped in bonded labour, forced labour or other forms of modern slavery. The raised demand for certain products, alongside an increased demand for work, has also exposed may factory workers potentially exploitative working conditions, and the impact on global programmes focusing on human rights have been delayed; potentially resulting in millions of additional cases in the coming years. It is vital to ensure that in tackling the global public health crisis much of the positive development in addressing human rights around the world is not undone, and Governments and private sector actors continue to address and improve the situations of society's most vulnerable individuals.