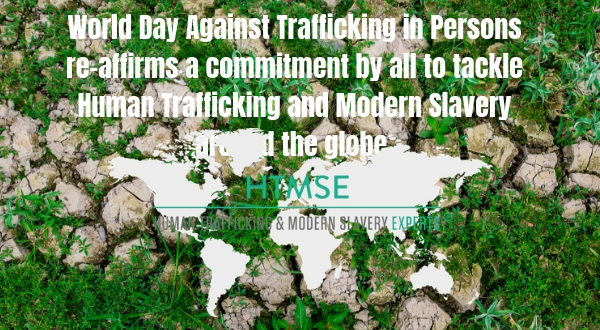 The world day against trafficking in persons was held on the 30th July 2019. The day is designated by the United Nations as a moment to reaffirm commitments to tackle human trafficking, support victims, and protect those at risk globally. Human trafficking is an exploitative crime that targets men, women, and children for a variety of purposes, including forced labour, sexual exploitation and organ removal. In 2000 the United Nations opened for signature and ratification the Protocol to Prevent, Suppress and Punish Trafficking in Persons Especially Women and Children, supplementing the United Nations Convention against Transnational Organized Crime, commonly known as the Palermo Protocol. The protocol delivered an internationally accepted definition of human trafficking as:
…the recruitment, transportation, transfer, harbouring or receipt of persons, by means of the threat or use of force or other forms of coercion, of abduction, of fraud, of deception, of the abuse of power or of a position of vulnerability or of the giving or receiving of payments or benefits to achieve the consent of a person having control over another person, for the purpose of exploitation. Exploitation shall include, at a minimum, the exploitation of the prostitution of others or other forms of sexual exploitation, forced labour or services, slavery or practices similar to slavery, servitude or the removal of organs.
Since 2000 the United Nations has collected data on over 200,000 victims of human trafficking identified across the globe. In addition to this the International Labour Organisation published figures stating that in 2016 there were at least 40,000,000 victims of modern slavery worldwide. Despite the introduction of many legislative instruments since 2000 around the world to tackle the issues of human trafficking and modern slavery, such as the UK Modern Slavery Act 2015, the French Duty of Vigilance laws, and Australia's New Modern Slavery Act 2018, the issues of human trafficking and modern slavery continue to pose a vast global challenge.
It is increasingly recognised that tackling human trafficking and modern slavery, crimes that are often of a hidden nature, requires multi-agency collaboration and professional experts from across all sectors. The Human Trafficking and Modern Slavery Expert Directory was established in the UK to bring together professionals and specialists who work in the counter-trafficking and anti-slavery sectors from around the world. Victims of human trafficking can be transported within their own country or across borders many thousands of miles from home. The directory addressed a critical need for a centralised global database of experts and professionals to better enable those working in the field to approach an incredibly complex, often international, problem. The HTMSE directory lists a large cross section of professionals and organisations, all of whom have different specialisms and varying qualifications, including  NGOs, charities, businesses, lawyers and law firms, medical practitioners and researchers. The directory is designed as a free resource for all, whether signing up to the directory as an expert or searching the directory in search of an expert.
In 2015 the United Nations presented the Sustainable Development Agenda, which included a target of ending human trafficking and modern slavery by 2030, which according to a recent study is far from being met. However, whilst this year's World Day Against Trafficking in Persons focused on calling governments around to world to action it also promotes action by all.
If you are a you are a professional, NGO, charity, business, lawyer, medical practitioner, or other expert or specialist organisation and wish to sign up to the Human Trafficking and Modern Slavery Expert Directory and professional network please follow the link here.