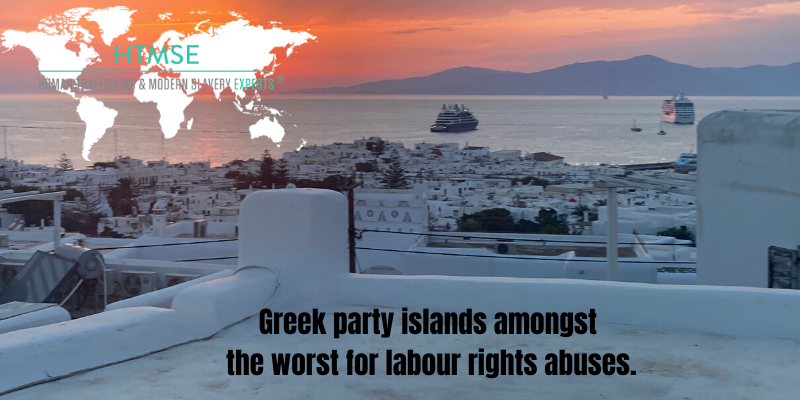 The International Labour Organisation (ILO) records that 20.8 million victims of forced labour are exploited by private enterprise worldwide. Since the reopening of the tourism industry post the coronavirus pandemic, seasonal employment at holiday destinations is under significant strain. This has led to an increase in forced labour in the tourism and hospitality industries of Greece and Cyprus. 
The World Travel and Tourism Council indicates that in 2019 Greece made €18 billion from tourism. The following two seasons impeded by lockdowns and international travel restrictions  have meant relatively null revenue. Since 2019, the Greek tourism industry has a labour shortage of 50,000 employees. Thousands of high-skilled hospitality and tourism workers lost jobs throughout the pandemic, or were forced to move to other industries since hospitality hours and wages would not cover the cost of living amongst inflation and high gas prices. However, with tourism rates back to pre-pandemic status in this years summer season, those who held onto jobs were forced to compensate for the labour shortage by working in extreme conditions with no days off. Staff worked 12-18 hour days, 7 days a week with no insurance, and many work in dangerous conditions. Furthermore, employers are shifting to recruit migrant workers without necessarily the language skills or experience needed for the jobs, which makes them particularly vulnerable to exploitation. There have been reports of employers providing 'rotten food', terrible working conditions and taking the tips of their employees. 
Some sectors including hoteliers, and as of June 2022 the hospitality industry, have a collective labour agreement which theoretically protects the rights of workers through fixed terms of employment and pay. However despite the mandate for authorities to hold regular inspections and issue fines for overworking or mistreatment of staff, reports suggest there are shortfalls in the Greek Labour Inspectorate itself, therefore inspections are rare. For example the island of Rhodes has only 2 inspectors. 
Governments of both Greece and Cyprus have looked to solve their labour issues by offering employment to Ukrainian refugees and migrants from non-Eu countries living in migrant camps, of whom 30,000 have social security and VAT numbers. As of June 2022, Cyprus issued 800 foreign labour permits and Greece will adopt this model for the 2023 tourist season. 
However both Greece and Cyprus have been spotlighted by cases of modern slavery pre the pandemic. In 2017 Greece was found to violate 'Article 4 of the European Convention on Human Rights by not preventing human trafficking of irregular migrant workers' in their agricultural sector, which was exposed through a case of violence against migrant workers picking strawberries.  In 2019, an ex-army serial killer exposed the exploitative system of migrants engaged in domestic work in Cyprus. Due to the migrant status of the women, their disappearances were not pursued diligently by authorities. This highlights the lack of regulation and structural protection for migrants in both countries, leaving those coming to work in the tourism sector also at risk of modern slavery in the form of forced labour, debt bondage, or coercive recruitment. 
Although both countries have the agenda to prevent labour exploitation, the economic and social pressure of the pandemic increased pressure on these issues. Employing migrant workers may offer a solution to the labour shortages, however the working conditions, pay and welfare of both domestic and foreign workers must be protected and regulated according to international standards. As well as violating fundamental human rights, the ILO highlights that forced labour is a 'significant cause of poverty and hindrance to economic development'.