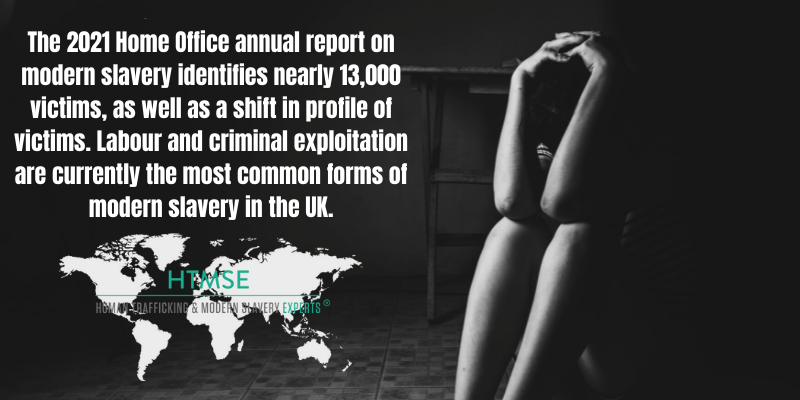 The 2021 Home Office annual report on modern slavery identifies nearly 13,000 victims, as well as a shift in profile of victims and the worst kinds of threats, with labour and criminal exploitation currently the most common forms of modern slavery in the UK. 2021 indicates the highest number of victims reported to the NRM per year since it was initiated in 2009. This is a 20% increase from 2020 where 10,601 victims were identified, close in number to 2019 when 10,611 victims were identified. The number of referrals to the NRM has been steadily increasing year by year, however the rapid increase in 2021 is potentially linked to the rise in cases related to county lines drug gangs.
The increase in cases related to county lines gangs accounts for 16% of cases reported to the NRM, of which most were male victims. This targeted gender accounts for the change in common modern slavery victim profile, with 77% of victims (9,790) being male. 23% of victims (2,923) were female. Alarmingly, 43% of referrals (5,468) were minors, due to high rates of child criminal exploitation. The common demographic of victims by nationality in 2021 were majority UK citizens at 30%, followed by Albanian nationals at 20% and Vietnamese nationals at 8%. The majority of the exploitation occurred in the UK, in the form of labour abuse and criminal exploitation, for example in the illicit drug trade.
These statistics are reported from October 2020 – September 2021, in England, Wales, Scotland and Northern Ireland. However, due to the coercive nature of modern slavery, these figures do not reflect the actual number of victims recorded. CEO of NGO Unseen UK, Andrew Wallis OBE highlights that 1 in 5 victims of modern slavery chose not to engage with the NRM in the 2021 reporting year, bringing the total number of victims up to nearly 16,000. Engagement with the NRM is vital for victims to be recognised by the state as victims of modern slavery, and have access to protection and support. This means 3190, approximately one fifth of modern slavey victims identified by frontline and border authorities under the Duty to Notify (DtN) process, are still vulnerable to re-trafficking or further exploitation in society. This trend to deny referral to the NRM is 47% higher than 2020, suggesting a rise in mistrust in authorities that prevents victims from receiving the medical, psychological care and justice they are entitled to.
For the full Home Office statistical report for 2021, see here.