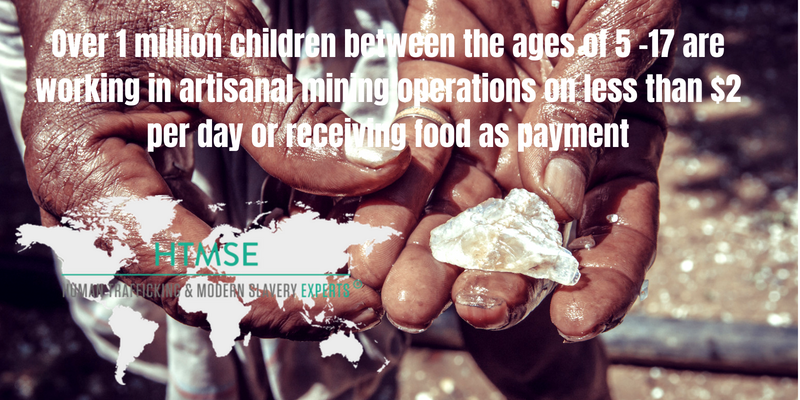 In the wake of the development of modern slavery compliance legislation, there is a movement towards transferring the onus of responsibility onto large corporations to ensure their own supply chain is clean. Some of the worlds largest companies are in the jewellery business, with a notorious reputation for human rights abuses, yet some of the world's highest revenue. According to Human Rights Watch (HRW), specifically gold and diamonds generate over $300 Billion revenue annually, from 90 million carats of diamonds and 1,600 tones of gold. 
There has been an upraise in media on ethical supply chains in agricultural industries such as fishing, cocoa & coffee production, yet there are significant issues to be addressed in supply chain compliance and ethical sourcing compliance for the jewellery business – here addressing labour exploitation, child labour and human trafficking.
Examples of Human Rights abuses
 Specifically in relation to child labour, estimates suggest over 1 million children work in artisanal or small-scale mining operations, despite being illegal at both the domestic level and by international law. Statistics from the African Centre For Economic Transformation suggest these children between 5 -17 are working on less than $2 per day, or receiving food as payment. Child labour has been reported in Ghana, Mali, Nigeria, the Philippines, Tanzania, and Zimbabwe, Burkina Faso, Uganda, the Democratic Republic of Congo, and Indonesia. However, regulation is lacking and children are continuously working in extremely dangerous and inhumane conditions, including exposure to toxic and explosive chemicals potentially causing brain damage, respiratory diseases from the dust, heavy strenuous lifting and exposure to dangerous machinery.
Concerning forced labour, it has been reported in Peru, Democratic Republic of Congo, Eritrea and in Zimbabwe where the military physically forced workers into diamond mining between 2008-2014. In the harsh conditions of the mining industry, workers are prevented from leaving either by blackmail or violence. In other cases, workers are trafficked to mines, by deception or force, in order to be exploited for mining work.
Wider rights abuses are continually taking place in the extraction industry, including land rights violations whereby indigenous populations have been displaced, armed conflict violations including money laundering to fund civil wars and violence by arming militias. Sexual violence, including abuse and torture by occupying mine workers, security guards and soldiers controlling mines has been reported, such as in Porgera mine, Papua New Guinea. Furthermore, environmental rights have been violated by disrupting 1000s of people and defecating habitats with toxic mine runoff, as in Nigeria 400 were children killed by artisanal mine toxic lead poisoning.
What are the current standards?  
Alongside prominent Modern Slavery legislation, as seen developed in the UK, USA and developing in Australia, that holds businesses accountable for their own supply chain regulation, there are several international standards for human rights compliance yet none that are prominent enough to control this issue.
The United Nations Guiding Principles on Business and Human Rights declares that companies are by law required to undertake "human rights due diligence" within their entire supply chain. Furthermore, they must have systems in place to identify and remediate human rights abuses immediately. However, when it comes to implementation this only document offers only 'guidance'.
The OECD Due Diligence Guidance for Responsible Supply Chains of Minerals from Conflict-Affected and High-Risk Areas provides an industry-targeted outline for mine operators. The major issue with this, however, is that it is voluntary and therefore not officially regulated.
Furthermore the Kimberley Process Certification Scheme (KPCS) is a significant international standard relating specifically to diamond extraction, to eradicate "blood diamonds" or "conflict diamonds". However, again this proves too narrow, as it does not cover human rights abuses outside of active conflict zones.
The Responsible Jewellery Council (RJC) provides a certification system for all stakeholders in the jewellery supply chain. However, as this is an industry led program, it fails to have the legal and regulatory weight to ensure due diligence is done. Instead, according to findings by HRW it has flawed governance systems in which most companies assign their whole credibility for human rights compliance.
Are jewellery companies adhering to Modern Slavery compliance regulation?
HRW released a report in February this year focusing on the policies and practices of 13 major jewellery brands that generate over $30 Billion per year. Many reporters and researchers fail to receive any comment from major bands as to their slavery and trafficking risks associated with gold mining.  HRW concluded that clear majority of jewellery companies are not meeting human rights standards within their supply chains. There are little hands on investigations, and too much reliance is put on verbal 'assurances' from their suppliers that the gems, minerals, products are ethically and sustainably sourced.
Two mining companies have monopoly over the global diamond industry, and account for over half of all diamond sales. De Beers, working from South Africa, Botswana, Canada, Namibia, and Russian company ALROSA. However, according to HRW, both of these fail to be transparent with the mines in which their diamonds are sourced.
Issue in difficulty for companies to trace their supply chains
With parallels to technology companies who source small parts from many locations, the jewellery industry has very complex supply chains, as oppose to fishing or agriculture where the total product (e.g. a fish) has one source of origin. For example diamond jewellery is handled by many actors, making it difficult for companies to trace their full supply chain. From the mines, diamonds are firstly sent to be cut and polished, whereby 70% of the global diamond supply is done in India and 20% in China, reflecting their low labour costs. The next stage in a generic supply chain is to jewellery manufacturers where the products are pooled and constructed. Finally they reach the end retailers, where the US has the largest market of 40% of global sales.
A crux of the issue is in the sale after the raw extraction process because as soon as the minerals go through the first process of trade or export, batches from many sites are often mixed up. This makes the sustainably and ethically sourced gems or metals untraceable from those that are product of exploitative labour. This is ultimately caused by negligence of the mine operators in dealing with and processing their products in a way in which they can be accounted for.
Some companies have CSR programs used to give back to the community and in exchange for their land use, build major infrastructure like schools, roads, and hospitals. (Harvard) However, there is speculation around using these methods as a way to be presented as human rights compliant, as these initiatives are undercut by their lack of transparency in their daily business operations and supply chain mechanisms. Analysis of the global extraction business points to the conclusions that this industry is fuelled by profit and capital gain, whereby there is a large disconnect between those that are receiving the benefits of the jewellery business and those that are suffering. This issue is on-going because perpetrators will not have interests in alleviating the abuses from their supply chains, unless legally forced to, or compelled by their customers through suspended of business.
Resolutions
Although the majority of companies are lacking in their supply chain compliance, HRW points out that some positive initiatives are blooming. For example a number of jewellers are exclusively working with artisanal mines that comply with the Fairtrade or Fairmined gold standard coming from Latin America, driven by consumers demanding ethical sourcing. In order to be most effective, successful domestic legislation such as the UK Modern Slavery Act should be used as a blueprint to regulate national supply chains. For countries that are less likely to adopt such policies, the international literature should become involuntary, binding and regulated, to cut out any internal corruption facilitating the mining industry. Furthermore, a percentage of the capital that is gained from mines should be redirected to the local communities through education and infrastructure to deal with the long term problem of child labour in the extraction sector.
—
Statistics drawn from Human Rights Watch Report February 2018: The Hidden Cost of Jewelry: Human Rights in Supply Chains and the Responsibility of Jewelry Companies