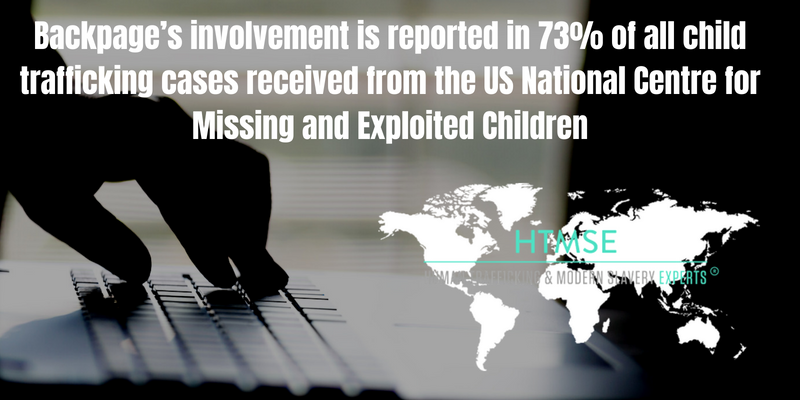 In an exponentially expanding era of cyber activity, new channels for criminal activity are being facilitated. A particular area of concern is within the use of the Internet for human trafficking and in particular sexual exploitation, in which the US case of Backpage.com has received much international attention.
Earlier this year the notorious website was shutdown by the US Department of Justice. Backpage.com is the world's second largest classified ad marketplace where 90% of the websites' revenue is generated from 'ads' relating to sexual promotion, including child sexual exploitation and forced prostitution. Based in its Dallas Texas HQ with global operations out of 97 countries with 943 locations, the last reported value of Backpage.com was over half a billion US dollars. It has been the subject of on going concern for US authorities, as Backpage's involvement is reported in 73% of all child trafficking cases received from the US National Centre for Missing and Exploited Children (NCMEC).
The United States Senate's report Backpage.com's Knowing Facilitation of Online Sex Trafficking following the 2 year investigation indicates three major findings:
Backpage has concealed evidence of criminality by systematically editing its 'adult' ads. Over the last 10 years and as recently as 2014, Backpage executives have had several methods of formalised 'deletion of incriminating words and phrases, primarily through a feature called the "Strip Term From Ad Filter."' Words removed by both manual and automatic systems included "lolita," "teenage," "rape," "young," "amber alert," "little girl," "teen," "fresh," "innocent," and "school girl." Through rewording advertisements, the client could submit the ad with the same criminal intention and usage, yet presented with 'legal' content.
Backpage is fully aware of the fact that it facilitates illegal prostitution and child sex trafficking. It has refused to respond to complaints and manipulated information sent to NCMEC.
Despite the sale of the website to an anonymous foreign company in 2014, the real owners are James Larkin, Michael Lacey, and Carl Ferrer.
Bradley Myles CEO of Polaris Project made a statement on this case, in which he commented that "shutting down the largest online U.S. marketplace for sex trafficking will dramatically reduce the profitability of forcing people into the commercial sex trade, at least in the short term. Traffickers will have to rethink their business models and sex buyers will face greater risk." He highlighted the fact that the multimillion-dollar industry leader cannot claim 'ignorance' as to the human trafficking they are facilitating and must be held personally liable.
This response relates to previous attempts to shutdown Backpage.com. For example in 2016, the CEO, Carl Ferrer and fellow executives were arrested on 'pimping related charges'. However, this attempt at prosecution was unsuccessful, protected under the US Constitution and legislation that deemed Backpage.com having no liability for the speech of third parties who posted the ads on their site. The US Communications Decency Act (CDA) 1996 was implemented as an attempt to regulate internet pornography, but under Section 230 has been interpreted to shield operators of Internet services, and thus they are not legally or criminally liable for the content of third parties who use their services. This defence has been used several times to leave Backpage.com operating, despite the obvious facilitation of sex trafficking. To overcome this on going loophole, the Trump administration has amended this legislation through their Stop Enabling Sex Traffickers Act of 2017 to put the onus of responsibility onto the website host for information relating to sex trafficking.
The concern over this legislation has primarily been voiced by free speech and internet advocates including the Silicon Valley Internet Association who are lobbying against it, as it has wider implications for their own accountability for illicit content created by users. The CDA legislation is seen as a primal statute for Internet development, which has put pressure on large 'legitimate' tech companies including as Google, Amazon, Facebook, and Twitter. Google has put forward a number of solutions they are contributing, including blocking Backpage.com advertising from their remit and developing technology to help scan for rouge sites. Ultimately, however, these technologies have not been successful in stopping the operation of sex promotion that is currently 'protected' by the US constitution, and therefore legal measures need to be adjusted.
In analysis, the core of the issue is transferring the onus of responsibility onto the owner/s of websites that may be used for illegal activity, as they are ultimately benefitting from the exploitation facilitated by their website (whether within or out of their knowledge).  Although the issue is complex and there are no tangible supply chains in an online system, the legislation ruling cyber security must mimic the template of recent Modern Slavery Legislation (e.g. in the UK), where the benefiters (i.e. corporations) must be responsible for human rights abuses in their supply chain in the same way that website facilitators must be held accountable for abuses that are associated with their website's network.
For the full report United States Senate's report Backpage.com's Knowing Facilitation of Online Sex Trafficking, read here.